Posted by Greg on March 18, 2008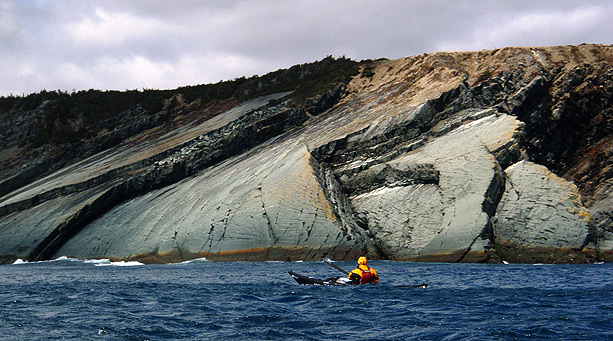 Greg Stamer off "The Rock" (Newfoundland) 2007. Photo by Freya Hoffmeister. (click on image to see enlargement)

Hello and Welcome to my new blog and website!
For a few weeks this site will be under heavy construction but please stop by and view the changes. In addition to sharing my thoughts on life and kayaking in this blog, this site will allow you to follow my progress on kayaking trips.
I must admit that I'm not completely comfortable with the humility aspect of having a domain name in my own name, and having my face sprawled across a website. If you are put off by this, then I hope that you find the content to be down-to-earth and interesting.
My next long adventure is a solo circumnavigation of Newfoundland, planned to start June 2008. I hope that you will follow me virtually around Newfoundland and freely share your comments. I will be using an NDK Greenlander Pro and Superior Kayaks carbon Greenland paddles. Many thanks to Sea Kayaking UK and also my friend Tom Bergh of Maine Island Kayak company for help with the logistics of obtaining a kayak for the trip. Please see my complete sponsor list for the people and companies that make my trips possible.
Karel Vissel, who provided weather reports for my trip around Iceland will be providing weather assistance on this trip as well. Thanks Karel!
Derrick Mayoleth will be updating my blog entries from satellite phone text messages that I send nightly. Thanks Derrick! I will be adding my own blog entries and uploading images as I find internet access during my journey.
Press Release:
Greg Stamer will be undertaking an unsupported, solo, sea kayak circumnavigation of Newfoundland, "the Rock", Canada's easternmost province, starting from St. John's in June, 2008. This adventure is more than 1,700 miles around one of the most windswept locations in North America. Newfoundland is also one of the world's most beautiful kayaking destinations with Icebergs, seals, puffins, breaching humpback whales, sea caves and a formidable rocky coastline. Abandoned fishing villages dot the coast.
Greg fell in love with Newfoundland and its people while teaching kayaking at a symposium there in 2007. "The country has a raw, primal beauty. Never before had I seen so many sea caves to play in, or so many thousands of birds, such as what I witnessed at Cape St. Mary's in the Avalon Peninsula. Likewise the people are among the friendliest that I have ever met and would literally give you the shirt off their back if you were in true need. During my stay there I was offered berth in houses, inside cabins of ships and inside trailers. While I plan to stay in the wilds as much as possible, I know that interacting with the people of Newfoundland will be one of the greatest highlights of my journey. Winds will be a challenge as will the toll of long, high-mileage days".
During his Iceland circumnavigation with trip partner Freya Hoffmeister last year, Greg completed two crossings of 90km, and 100km, the latter requiring more than 22 hours to complete. Neither of these crossings had been completed by kayak before. For the Newfoundland expedition Greg will be again be kayaking headland to headland, and making a number of challenging crossings, but he will also allow himself to be seduced into visiting the country's beautiful bays and historic sites, including the ancient Viking settlement at L'Anse aux Meadows. Greg is president of Qajaq USA (http://www.qajaqusa.org), an organization devoted to promoting Greenland-style paddling. As he did while circumnavigating Iceland, Greg will use Greenland-style paddles for his Newfoundland expedition.